Monday, January 6, 2020 – Monday, February 24, 2020
Mondays from 11:30 AM - 1:00 PM
No events
There are no scheduled events. Please check back soon!
The Senior Strummers Intermediate Winter Session builds players' skills by applying ukulele techniques in a "jam session" format!
In this 8-week session, students will strum along with Teaching Artist Mark Baker to classics from the 60s, favorite children's tunes, and requests while exploring and extending their understanding of chord shapes, scales, and strumming patterns.
Classes meet Mondays from January 6th through February 24th at 11:30am.
Some experience required. Students must provide their own instruments. (Concert or Tenor-size Ukuleles recommended).
Please email musicalive@azmusicfest.org for questions!
Instructor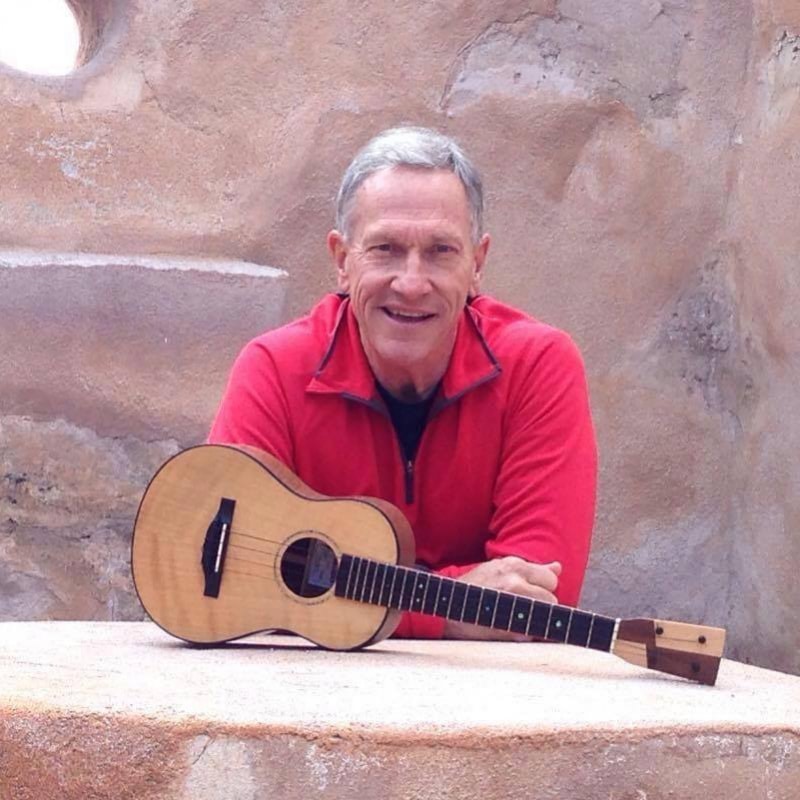 Mark Baker
My name is Mark Baker, Singer/Songwriter, and Ukulele Slinger extraordinaire.
I lead the Senior Strummers ukulele classes at Arizona Musicfest. Learn more about Senior Strummers.
I'm a native Texan who discovered early on that performing is in my blood when I was picked to star in the musical The Boy Who Hated to Play the Piano. I was seven and it was my first gig on stage. My professional career truly began at thirteen with my first job of sacking groceries in Amarillo, Texas. I wasn't having any fun, so I quit and started singing at a local joint called The Hole in The Mall for slices of pizza! Eventually, I was paid in cash. This made me realize that I love to be in front of an audience. When I got the chance, I hit the road and for twenty-five years performed solo wherever I could in the U.S., Mexico, and Canada. It was a fantastic experience and I met many great people. I had some terrific highlights as well, and one that's still close to my heart was being able to perform with Celine Dion during her late 1990s tour. Recently, I played with the New Christy Minstrels celebrating the 50th anniversary of Sun City.
The kind of music I perform is to bring people together, to make people happy, and for lack of a better phrase; "to spread the love." I play the classics by Neil Diamond, John Denver, Harry Chapin, George Strait, Jimmy Buffet, Marty Robbins and others as well as Jazz and Standards from the 20's, 30's, and 40's. I love for my audiences to get involved by clapping, singing along, and just letting go in the joy of music.
I also perform my first original composition, Till the Highway Turns to Sea. I composed this song in the late summer/early fall of 2013 while completing a long held dream of riding my bicycle solo from my home in Arizona to St. Augustine, Florida. The distance was 2810 miles and it took 61 days. I saw lots of this great country and met many wonderful folks. One of the great highlights of this trek was when our son, Michael, joined me in Tallahassee. We rode the final leg of 400 miles together. There at the end was the Atlantic and my wife, Peggy, my true reward!
The bike journey and writing my first original song inspired me to make my debut record. I recorded this CD at Third Eye Studios in late October of 2014. Produced by Daniel Ward and engineered by David McRae. It's a compilation of fourteen songs of Standards, Jazz, Soft Pop, Country, a favorite pop tune arranged to Bolero that will have you dancing no matter where you are, and oh yeah, my first original song. The title of the CD is AND I RIDE featuring the original song Till The Highway Turns to Sea. Release date is scheduled for late Spring of 2015.
I live in Sun City, Arizona with my wife Peggy. This will be my fifth season performing with the Spirit of Christmas at The Chandler Center of Performing Arts. In 2011, I founded the Sun City Ukulele Club and am proud to say membership is approaching 100 and still growing. In 2013, I played numerous engagements including the Summer Concert Series at the Sundial Auditorium in Sun City. In the summer of 2014 I went on a three month tour of concerts and workshops. For 2015 and into the future I will continue my concerts and workshops. I also have a new goal of helping to establish Ukulele Clubs throughout my travels.