Leadership, Board & Staff
Allan E. Naplan
Executive & Producing Director (CEO)
Allan E. Naplan joined Arizona Musicfest in 2013.  Since his arrival, the organization has realized significant growth and success.  During his tenure, Musicfest has greatly expanded the number of concert performances offered each season, the breadth of musical genres presented, the caliber of guest artists engaged, and the number of patrons attending each year's concert season.  Further, charitable support for the organization has dramatically increased, providing the non-profit with a healthy fiscal balance of earned vs. unearned revenue.  Under his direction, Arizona Musicfest has presented a distinguished roster of guest artists, including Johnny Mathis, David Foster, Michael Bolton, Paul Anka, Kenny G, Joshua Bell, Michael Feinstein, Jean-Yves Thibaudet, Pink Martini, Bernadette Peters, Gil Shaham, Neil Sedaka, Rosanne Cash, Chris Botti, Emanuel Ax, Jason Alexander, Al Jarreau, Wynonna Judd, Mavis Staples, Midori, Brian Stokes Mitchell, Big Bad Voodoo Daddy, Judy Collins, Sara Evans, The Manhattan Transfer, Mary Chapin Carpenter, The Ten Tenors, Keb Mo, Vanessa Williams, Jake Shimabukuro, Chita Rivera and Tommy Tune, Sergio Mendes, LeAnn Rimes , The Count Basie Orchestra, Steep Canyon Rangers, and many more.
Off the Musicfest stage, Allan's championing of the organization's music education, youth performance and community engagement programming, has led to important developments.  These developments include his creation of Music Alive!, the organization's popular lifelong learning series, as well as his conception of The Music of Arizona, the organization's signature music education program.
In 2020, Naplan was recognized as an "Arts Hero" by On Stage/On Media magazine, the official publisher of arts performance programs for the Phoenix valley.  Previously in 2018, Naplan was named as a "Best of Arts and Culture" winner by the Phoenix Jewish News for his leadership of Arizona Musicfest and his artistic contributions to the community.
After an initial career as an opera singer, Allan transitioned to arts management in 1999. Since that time, he has enjoyed a varied career as an accomplished opera administrator, music educator, cantorial soloist and composer.
As an opera administrator, Allan held key positions with the Houston Grand Opera (Assistant Artistic Administrator), Pittsburgh Opera (Director of Artistic Administration), Madison Opera (General Director) and Minnesota Opera (President and General Director).
Allan maintains an active career as an award winning composer, published by Boosey & Hawkes, Shawnee Press, Silver Burdett-Ginn, Transcontinental Music, and Colla Voce Music. Allan's choral works—many of which are standard repertoire for treble and adult choirs—have been performed and recorded in over-forty countries worldwide, and have been featured in concerts at Carnegie Hall, the Kennedy Center for the Performing Arts, New York City's Lincoln Center, The White House, on-board Space Shuttle Columbia, Mission STS-107, and in the 2002 Academy Award nominated documentary SING!. Since 1994, his works have sold over 1 million copies worldwide.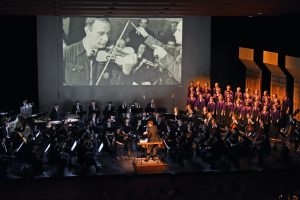 For the 2019 Arizona Musicfest season, the Festival Orchestra, joined by the Phoenix Girls Chorus, performed Allan's "Schlof Main Kind, A Yiddish Lullaby" featuring the Violins of Hope, a collection of violins recovered from the Holocaust. (Click picture to view performance video).  Following the Musicfest performances, this work was performed at the National Cathedral in Washington DC as part of a Holocaust commemoration, and in 2021 the work was featured in a virtual gala event for Violins of Hope LA.
Allan holds degrees in vocal performance and music education from the Ithaca College School of Music, where he was honored as the College's 2004 "Distinguished Young Alumni Award" recipient.
Originally from Marblehead, Massachusetts, Allan currently resides in Phoenix, AZ along with his wife Christina Harrop and their sons, Jonah and Elliot.

Maestro Robert Moody
Music Director
Robert Moody is the Music Director of Arizona Musicfest, where his principal role is to lead the Festival Orchestra, a superlative ensemble comprised of musicians from the finest orchestras of America.  His tenure with the organization began in 2007.  Maestro Moody also currently holds the position of Musicfest Director with the Memphis Symphony.   Previously, he served as Music Director of the Winston-Salem Symphony (North Carolina) from 2005-2018 , and Music Director of the Portland Symphony Orchestra (Maine) from 2008-2018.
Recent guest conducting appearances include the Chicago Symphony at Ravinia and the Los Angeles Philharmonic at the Hollywood Bowl, in addition to the symphonies of Toronto, Houston, Indianapolis, Detroit, Seattle, Fort Worth, San Antonio, Buffalo, Louisville, Columbus, Oklahoma City, and, in Europe, the Slovenian Philharmonic and the Vienna Chamber Orchestra. Summer festival appearances include Santa Fe Opera, Spoleto Festival USA, Eastern Music Festival, PortOpera, and the Oregon Bach Festival.
Equally at home in the opera pit, Moody began his career as apprentice conductor for the Landestheater Opera in Linz, Austria. He has gone on to conduct at the opera companies of Santa Fe, Rochester, Opera Carolina, Des Moines Metro Opera, Hilton Head Opera, and North Carolina Opera. He also assisted on a production of Verdi's Otello at the Metropolitan Opera, conducted by Valery Gergiev, and at The English National Opera, where he was Assistant Conductor for Weill's Street Scene. He made his Washington National Opera and North Carolina Opera debuts in 2014, and he conducted Bartók's Bluebeard's Castle, Leoncavallo's I Pagliacci, and Poulenc's Dialogues of the Carmelites during 2016-2017.
Moody served as Associate, then Resident Conductor, of The Phoenix Symphony (AZ) from 1998 through 2006. There he conducted a wide variety of concerts, including Classics, Chamber, Pops, Family, Handel's Messiah, and the New Year's Eve gala. His ability to speak with ease from the podium helped new converts to classical music and enthusiasts alike to gain a greater appreciation for orchestral music. Audiences at his concerts grew considerably during his time in Phoenix. Moody also founded The Phoenix Symphony Chorus, and for seven years was Music Director of the Phoenix Symphony Youth Orchestra.
Prior to Phoenix, Moody served as Associate Conductor for the Evansville (IN) Philharmonic Orchestra, and Music Director (and founder) of the Evansville Philharmonic Youth Orchestra. Moody conducted the first professional performance of a work by the brilliant young composer Mason Bates, now Composer-in-Residence with the Kennedy Center for the Performing Arts, and was instrumental in the commissioning and premiere performances of several of Bates' important major works for orchestra.
Moody's work can be heard on several commercially released compact disc recordings. He collaborated with the Canadian Brass for their Bach and Legends CDs; he is also the conductor for the CD Fourth World, highlighting the music of Native American recording artist R. Carlos Nakai (available on the Canyon Record label); and in 2010, the Winston-Salem Symphony released their performance (live from 2009) of Beethoven's Symphony No. 9. A DVD of Beethoven Symphony No. 9 with Arizona Musicfest was released in 2012. Recently, he was honored to conduct on the "Cancer Blows" concert with Ryan Anthony, members of the Dallas Symphony, and a host of trumpet luminaries, to aid the fight against multiple myeloma. CD and DVD recordings of that live concert, held in Dallas, TX in March 2015, are now available for purchase.
ARIZONA MUSICFEST BOARD OF DIRECTORS
OFFICERS
Co-Chairs: Dave Buzzelli & Doris Yock
Co-Vice Chairs: Chuck Goldthwaite & Pat Cohen
Treasurer: Doug Redding
Secretary: Chris Warsaw
DIRECTORS
John Abram
Roger Brooks
Amy Elias
Mary Goldthwaite
Bill McManus
Mike Miller
Dennis O'Neal
Bob Otto
Sharon Re
John Rosenfeld
Frances Rosenthal
Susan Rouleau
Nancy Schamadan
Chuck Schlimpert
Diana Smith
Sam Swainhart
Keith Tigue
Pat Yates
EX-OFFICIO DIRECTORS
Allan Naplan – Executive and Producing Director (CEO)
Tracy Grady – Volunteer Coordinator
Robert Moody – Music Director