The Mission of Arizona Musicfest is
To engage and delight audiences with exceptional concerts; promote and inspire young musicians through valuable performance and scholarship opportunities; and educate children and stimulate adults through dynamic music enrichment programs.
The Vision of Arizona Musicfest is
To Bring the Joy of Music to All!
Arizona Musicfest is a registered 501(c)3 not-for-profit charitable organization.
The Concert Season
• The Stars Shine Brighter in North Scottsdale! •
Each season, Arizona Musicfest presents top stars of the music industry.  Recent and upcoming guest artists include:
Contemporary POPS: Herb Alpert • Michael Bolton • Chris Botti • Tony Danza • The Texas Tenors • Steve Tyrell • Ann Hampton Callaway • Pink Martini • Michael Feinstein • The Hot Sardines • Neil Sedaka • The Ten Tenors • Big Bad Voodoo Daddy
Classical: Joshua Bell • Emanuel Ax • Jonathan Biss • Andre Watts • Gil Shaham • Olga Kern • Jennifer Koh • Nadja Salerno Sonnenberg • Midori
Broadway: Chita Rivera • Brian Stokes Mitchell • Tommy Tune • John Lloyd Young
Country Crossover: Wynonna Judd • Rosanne Cash • Sara Evans • Mary Chapin Carpenter • Lee Ann Womack
Jazz: Al Jarreau • John Pizzarelli • Jane Monheit • The Manhattan Transfer • The Duke Ellington Orchestra • The Count Basie Orchestra
Folk, Bluegrass & Blues: Judy Collins • Peter Yarrow • The Kingston Trio • Chris Thile • Steep Canyon Rangers • Keb'Mo' • Mavis Staples
and MANY more.
At the heart of each annual concert season is The Festival Orchestra, conducted by Maestro Robert Moody, and comprised of musicians from America's finest orchestras, including; the Chicago Symphony, New York Philharmonic, Philadelphia Orchestra, Boston Symphony Orchestra, San Francisco Symphony, Cleveland Orchestra, National Symphony, the Metropolitan Opera Orchestra, and many others.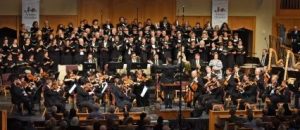 These superlative players, assembled exclusively by Musicfest, come to Arizona for a one-week residency to perform five symphonic programs for capacity crowds. During this special concert week, the Festival also features the Festival Chorus, one of the region's top choral ensembles.
The annual concert season runs between November and April.
Contributing to Our Community
While Musicfest's largest public profile is associated with the beloved concert festival, the organization's most significant community impact is realized through our acclaimed music education programs for area schools, youth performance and college scholarship opportunities for young musicians, and our popular lifelong learning series Music Alive.
Music Education
Through live performances by Musicfest Strings, Musicfest Winds, and Musicfest Jazz, students are introduced to musical genres and fundamentals. Musicfest's programs integrate music with student's appreciation and comprehension of language arts, science and writing, as well as geography and ethnography. The students' experience is further enhanced through Musicfest's professional teaching artists who provide not only dynamic performances, but also engaging and skilled instruction.
Musicfest's in-school performances are aligned with State of Arizona Educational Standards as well as core STE(A)M principles. Musicfest provides extensive pre and post-performance educational materials, which provide teachers, parents and caregivers with resources that extend the learning process beyond school.
With the 2016 debut of Musicfest Mariachi, Musicfest expanded the curricular focus to include elements of multiculturalism, world music, diverse languages and international instrumentation. Musicfest Mariachi, a bi-lingual program, celebrates the music and culture of Mexico, as well as the Valley's Mexican community. It has been enthusiastically received by students and educators alike.
In 2018, Musicfest launched The Music of Arizona, which uses culturally-diverse music and musicians to trace the multicultural evolution of our state, from indigenous people to the migration of Arizona's currently diverse population. The multicultural cast features a Navajo flutist, a Mariachi guitarist, a European-American fiddle player, a Chinese erhu specialist, an African American jazz saxophonist, and a Native American storyteller, as narrator.
Through the program, students learn about the evolution of Arizona's multicultural and musical history, while being introduced to diverse traditions, languages, instruments and music—all of which can be found, right here in Arizona. Musicfest is proud to produce this new program which has met with significant interest from teachers, administrators, government representatives, and community influencers.
For the 18-19 season, Musicfest also introduced a second new program, Music & Sound:Found & Around, a "music lab" space where K-2 students explore everyday items "found and around" in a school or at home that can produce rhythm, music and sound (a broom, a whiteboard eraser, rubber bands, etc). M&S/F&A uses these items from everyday ecology to produce organic and spontaneous musical compositions, as well as to connect the dots between found items and traditional band and/or orchestral instruments. By igniting students' minds and creativity, they find that chordophones (string instruments), membranophones (drum instruments), idiophones (shaken or vibrating instruments), and aerophones (wind instruments) are all around us and just waiting to be played!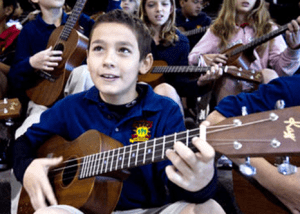 Musicfest's further investment in music education is demonstrated through our gifting of over 250 free ukuleles and guitars to local classrooms as part of the Musicfest Strummers program. To eliminate barriers for students eager to participate in music making, through Musicfest's Instrument Loan Program, the organization provides band and orchestra instruments to families in need.
Each season, through Access to Artistry, our Festival guest artists and Festival Orchestra members are mobilized into the community to mentor high school orchestra and band programs, to teach private lessons and/or to provide masterclasses and career talks to aspiring musicians. While the valley is fortunate to have many fine music educators and professional musicians, the chance for young musicians from a Scottsdale or Phoenix high school to be mentored by players from the distinguished New York Philharmonic or Chicago Symphony is truly unique and impactful.

Young Musicians
Musicfest's Young Musicians Competitions (strings, brass, piano, woodwinds, chamber ensembles, and singers) and its Young Musicians Concert Series, serve young musicians of the Valley. For the competitions, musicians receive critiques from esteemed judges. The winners receive generous cash prizes and consideration to perform at a Musicfest Young Musicians Concert.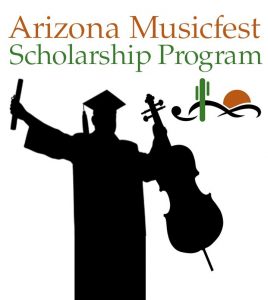 Since 2012, Arizona Musicfest's Scholarship Program has contributed over $110,000 to Arizona students pursuing college music degrees. Scholars have graduated from or are currently enrolled at The Juilliard School, Yale University, The Colburn School of Music, Eastman School of Music, the Curtis Institute of Music, New England Conservatory of Music, San Francisco Conservatory, as well as other conservatories and distinguished universities.

Lifelong Learning
Musicfest's lifelong learning series, Music Alive, presents programs to enrich our adult community's appreciation and engagement with music. Popular programs include Music & Muffins, Musicfest at the Movies, Kindermusik, Piano Fusion, Lectures on Music, Pre-Concert Talks, HealthRhythms, Musicfest "U", Senior Strummers, and Music in an Intimate Space.
This is an exciting time at Arizona Musicfest. Both on-stage and off, the organization is evolving and expanding. From concert to concert, and classroom to classroom, Arizona Musicfest is investing in its future, as well as in the future of our community. With a strong history as one of the region's cultural destinations and educational treasures, matched with tremendous current growth, Arizona Musicfest is poised for great things, for today and tomorrow.