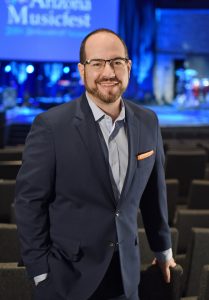 Name: Allan Naplan
Title: Executive and Producing Director
No. of Years at Musicfest: Seven
Hometown: Marblehead, MA
For my list of five favorite musical works, I've chosen to focus on a handful of pieces which bring me great joy and happiness. As I find the exuberance of these diverse musical works to be quite contagious, my hope is that their infectious delight will be just the (musical) cure we all need during these trying times!
Malambo from Estancia – Alberto Ginastera
performed by the Simon Bolivar Youth Orchestra, Maestro Gustavo Dudamel
When this video was first released on the internet, it quickly went viral, and for very good reason! I find the artistry and enthusiasm of the exceptional student ensemble to be both inspiring and thoroughly entertaining. (Note: the piece really takes off at 1:40!) Also be sure to check out the ensemble's fantastic performance of Leonard Bernstein's Mambo.
Klezmer Dances – Goran Frost
performed by Martin Frost and the Norwegian Chamber Orchestra
In Klezmer music, a "freylach" is a lively and festive uptempo song or dance. Here, the world-renowned Swedish clarinet virtuoso Martin Frost performs two joyous and fast-fingered excerpts from a Klezmer suite composed by Goran Frost, the soloist's brother.
Wheels of a Dream from Ragtime – Ahrens and Flaherty
performed by Brian Stokes Mitchell and Audra McDonald
Since its Broadway debut in 1997, Ragtime has remained as one of my all-time favorite musicals. In this powerful and uplifting anthem, the characters of Coalhouse Walker and Sarah are filled with tremendous joy and hope for their (and their son's) future. Many of you were with us for Brian Stokes Mitchell's outstanding 2019 performance at Musicfest. In this video, as well as at his Musicfest concert, Stokes was accompanied on piano by Tedd Firth. Tedd has also appeared two other recent times at Musicfest, performing alongside Michael Feinstein.
Act I Finale excerpt from Cosi fan Tutte – W.A. Mozart
2013 performance from the Metropolitan Opera
Prior to joining Musicfest, I spent 20 years in the opera business. During that career, I was fortunate to both sing, as well as produce, many operas by Mozart. The great composer had a remarkable knack for composing tour de force finales to his operas. While some are dramatic and triumphant, his Cosi fan tutte Act One finale is a wonderful musical romp that always fills me with great joy.
Happiness – We Banjo 3
I'm a big fan of the popular Irish bluegrass ensemble We Banjo 3. In this tune, the talented guys not only fill the streets of Galway, Ireland with joyous music and dance, but they also fill-out their acoustic sound with saxophones and brass–an inspired musical twist which I just love. The song's refrain notes that "Happiness is just around the corner". Like all of you, I'm certainly looking forward to turning that corner!