For over 50 years Ellis Island operated as an immigration hub, with countless families now able to trace their history through its doors. As with so many events and places in our history, the lives touched and stories told by Ellis have inspired artwork across genres. In anticipation of Musicfest's upcoming presentation of Peter Boyer's Ellis Island: The Dream of America, join Allan Naplan in surveying some of the many pieces created commemorating both large and small experiences.
Find a sampling of Ellis Island: The Dream of America below: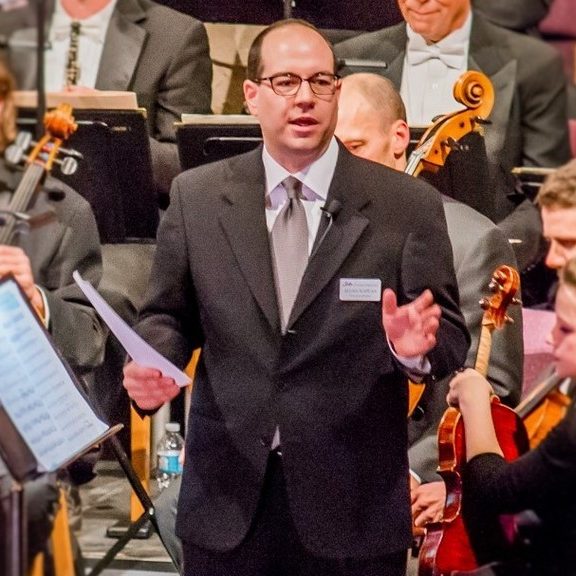 Allan E. Naplan *
Lecturer
Email
Allan E. Naplan joined Arizona Musicfest in 2013.  Since his arrival, the organization has realized significant growth and success.  Under Allan's direction, Musicfest has greatly expanded the number of festival performances offered each season, the breadth of musical genres presented, the caliber of guest artists engaged, as well as the number of patrons attending each year's concert festival.  Since 2013, Musicfest attendance has more than tripled.  Similarly, during this same time, individual philanthropy has experienced transformative growth, providing the non-profit with a healthy fiscal balance of earned vs. unearned revenue.  During Allan's tenure, distinguished artists presented by Arizona Musicfest have included Joshua Bell, Michael Feinstein, Pink Martini, Rosanne Cash, Chris Botti, Al Jarreau, Mavis Staples, Midori, Judy Collins, The Manhattan Transfer, Mary Chapin Carpenter, Jonathan Biss, Keb Mo, Jake Shimabukuro, Chita Rivera and Tommy Tune, Olga Kern, Lee Ann Womack, The Duke Ellington Orchestra, Steep Canyon Rangers, and more.
Off the Musicfest stage, Allan's championing of the organization's music education, youth performance and community engagement programming, has led to important developments, including his initiation of Music Alive!, the organization's popular lifelong learning series.
In 2018, Allan Naplan was recognized as a "Best of Arts and Culture" winner by the Phoenix Jewish News for his leadership of Arizona Musicfest and his artistic contributions to the community.
After an initial career as an opera singer, Allan transitioned to arts management in 1999. Since that time, he has enjoyed a varied career as an accomplished opera administrator, music educator, cantorial soloist and composer.
As an opera administrator, Allan held key positions with the Houston Grand Opera (Assistant Artistic Administrator), Pittsburgh Opera (Director of Artistic Administration), Madison Opera (General Director) and Minnesota Opera (President and General Director).
Allan maintains an active career as an award winning composer, published by Boosey & Hawkes, Shawnee Press, Silver Burdett-Ginn, Transcontinental Music, and Colla Voce Music. Allan's choral works—many of which are standard repertoire for treble and adult choirs—have been performed and recorded in over forty countries worldwide, and have been featured in concerts at Carnegie Hall, the Kennedy Center for the Performing Arts, New York City's Lincoln Center, The White House, on-board Space Shuttle Columbia, Mission STS-107, and in the 2002 Academy Award nominated documentary SING!. Since 1994, his works have sold over 1 million copies worldwide.
Allan holds degrees in vocal performance and music education from the Ithaca College School of Music, where he was honored as the College's 2004 "Distinguished Young Alumni Award" recipient. In addition to his music training, Naplan received a Mini MBA in non-profit management from the University of St. Thomas, Opus College of Business.
Originally from Marblehead, Massachusetts, Allan currently resides in Phoenix, AZ along with his wife Christina Harrop and their sons, Jonah and Elliot.
* returning Musicfest artist