Thursday, May 4, 2023 10:00 am
Part performance, part lecture, go deeper into the creation of some of your favorite pieces with Musicfest Informances.
Enjoy the finale of of our '22-23 Great American Songbook series as Nicole celebrates the contributions of the seminal Henry Mancini! From The Pink Panther theme to Moon River, Mancini is responsible for some of the great contributions to the Songbook of the 50s, 60s, and 70s. A wonderful pianist in his own right, Mancini played with a sensitivity that sweetly characterized his songs and music for film and TV.
Henry Mancini: Days of Wine and Roses on the Lawrence Welk Show
Nicole Pesce: I Got Rhythm
Led By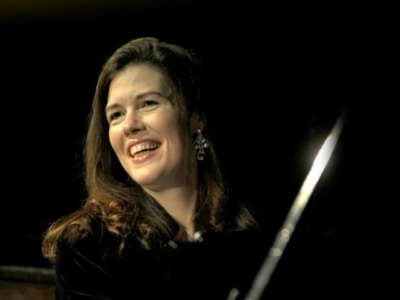 Nicole Pesce *
Pianist, keyboardist, composer and arranger Nicole Pesce entertaining audiences with a unique blend of virtuosity, humor, and pizzazz. Nicole's "Happy Birthday Variations" video has over six million views on YouTube, and Nicole was recognized by Arizona Foothills Magazine with their "Best of 2014" Award for Best Local Band/Musician. With a repertoire consisting of over 12,000 memorized songs, Nicole is often dubbed "the human iPod," and is hailed as "one of the top ten musicians to hear in Phoenix," by the Arizona Republic.
Nicole has performed for George Benson, Muhammad Ali, Ricky Martin, President George HW Bush, Waylon Jennings, Taylor Hicks, Janet Napolitano, Shaquille O'Neal, President Jimmy Carter, Chris Rock, Steve Nash, The Gypsy Kings, Glen Campbell, Margaret Cho and Brian Setzer. She's appeared with American Idol contestant David Hernandez, The Moscow Ballet, Zowie Bowie, and the casts of Mary Poppins, Young Frankenstein, and Mamma Mia!
* returning Musicfest artist