Scottsdale Serenade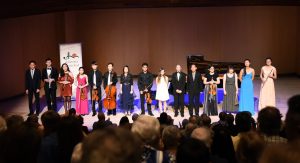 As part of Arizona Musicfest's commitment to young musicians, we annually present a series of three concerts highlighting standout musicians from our Competition series. Unfortunately, as with many events this COVID-effected year, this season's showcases were canceled. To continue celebrating the talented young people of the Valley, however, Musicfest pivoted this season to create a series of videos featuring virtuosic performances set in the incredible beauty of Scottsdale.
We are pleased to present three special musical and visual performances below. We hope you enjoy Scottsdale Serenade!
---
Set against the backdrop of Scottsdale's iconic Sonoran Desert, we were elated to invite 16-year-olds Nathan Lam and Rachel Dai to capture their exhilarating performance of Aram Khatchaturian's Sabre Dance. Anderson & Roe's frenetic arrangement of the work jumps out in juxtaposition with the peaceful setting, and these two wonderful performers present the piece with energy and excitement. Hold on to your hats as you take the wild ride that is Sabre Dance!
---
We were excited to work with 15-year-old Jonathan Okseniuk for his performance of the fourth movement of J.S. Bach's Third Violin Sonata. Bach's virtuosic piece acquits itself well in the Old West town at MacDonald's Ranch, and Jonathan's performance was captured beautifully in the picturesque Arizona sunset.
---
Finally, we're proud to announce that the originator of our Scottsdale Serenade series previously released in October, Leo Kubota, has been selected as one of two 2021 first-year recipients of the Arizona Musicfest College Scholarship. As you'll see, Leo took us on a tour of Scottsdale performing Carlo Alfredo Piatti's Seventh Caprice for solo cello, highlighting the natural beauty, iconic landmarks, and beloved public spaces in our community. We wish Leo the best as he pursues his studies at Yale University in the Fall!
---
Arizona Musicfest's Youth Performance Programs are a key pillar of the organization's mission. Known for attracting and serving the finest young musicians of the valley and beyond, Musicfest provides unique opportunities to aspiring musicians through our highly-regarded Competitions, the Young Musicians Concert Series at the MIM, Access to Artistry programs featuring masterclasses and private lessons with Musicfest guest artists, as well as through the Arizona Musicfest College Scholarship which, with this year's awards, will have provided over $130,000 to local young musicians pursuing college degrees in music.
We invite you to support our continued efforts to educate the artists and audiences of tomorrow.