Tuesday, February 18, 2020 7:30pm
*PROGRAM CHANGE*

Maestro Robert Moody begins and ends the concert with music inspired by Cervantes' Don Quixote.  An orchestra medley from Broadway's Man of La Mancha starts the program, while Richard Strauss's tone poem (cellist Zuill Bailey) concludes the journey of the knight errant's would-be heroic tale.  In between, the Festival Orchestra performs masterworks showcasing traditional Spanish dances—Ravel's scintillating Rhapsodie Espagnol and excerpts from Manuel de Falla's exhilarating Three-Cornered Hat.  
PROGRAM:
LEIGH/HAYMAN arr.: Music from Man of La Mancha
RAVEL: Rapsodie Espagnol
FALLA: Suite No. 2 from The Three-Cornered Hat
Intermission
R. STRAUSS: Don Quixote, op. 35
Zuill Bailey, cello
NOTE:

The above concert program replaces previously-announced repertoire and soloists.
This concert is generously sponsored by Ellen and Howard Katz.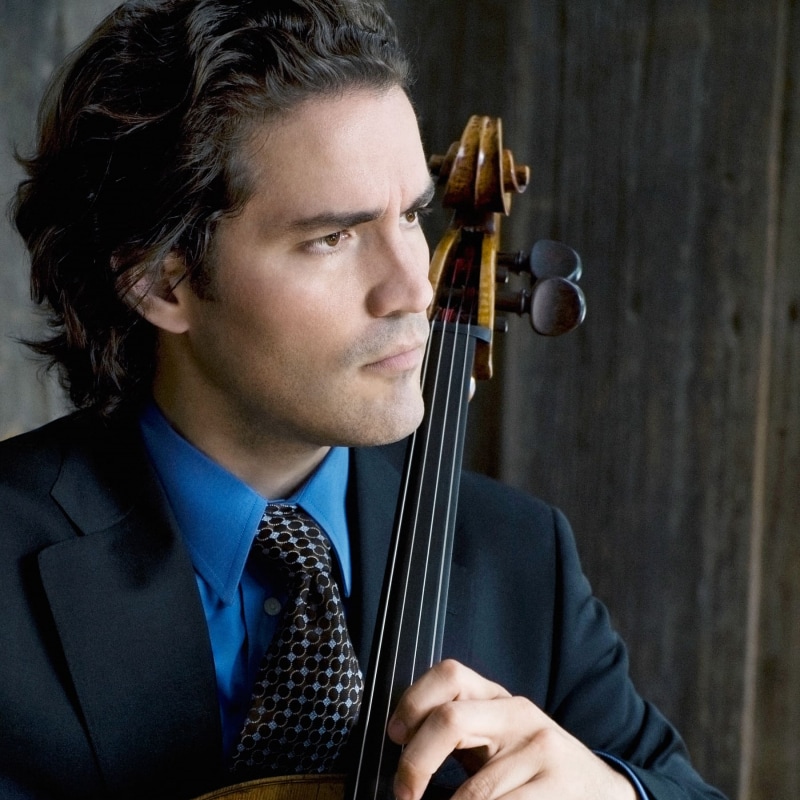 Zuill Bailey
Cello Soloist
Zuill Bailey is a Grammy Award winning, internationally renowned soloist, recitalist, artistic director and teacher. His rare combination of celebrated artistry, technical wizardry and engaging personality has secured his place as one of the most sought after and active cellists today. A consummate concerto soloist, Mr. Bailey has been featured with symphony orchestras worldwide and has collaborated with renowned conductors.
Zuill's demanding 2018/2019 season include Daugherty's Tales of Hemingway with the Anchorage Symphony, the Estonian National Symphony, and Orchestra Iowa, the Elgar Concerto with the Madison Symphony, the Lalo Concerto with the Wimbledon International Music Festival, Richard Strauss' Don Quixote with the National Philharmonic and violist Roberto Díaz, and the Walton Concerto with the North Carolina Symphony, as well as chamber music appearances at the Asheville Chamber Music Series and the Howland Camber Music Circle with the Ying Quartet.
Zuill Bailey has appeared at prominent concert halls throughout the U.S., Europe, Asia and the Far East. Zuill is a regular at music festivals around world and was the featured soloist performing the Elgar Cello Concerto at the Bard Festival in the world premiere of the Doug Varrone Dance Company performance of Victorious.
Zuill Bailey's Musical Outreach is based on the principle that great music transforms lives making Classical Music accessible to all! He works diligently to make classical music accessible to all, primarily children everywhere. Zuill reaches thousands through these exceptional music education presentations from University Level Master Classes to Schools, Hospitals, Senior Centers, Libraries, Museums, Rehabilitation Programs and Prisons. Music knows no borders or boundaries!
Zuill Bailey is a popular recording artist with an extensive discography. He won a best solo performance Grammy Award (2017) for his Live Recording of Tales of Hemingway by composer Michael Daugherty. His celebrated Bach Cello Suites and Britten Cello Symphony/Sonata CD, with pianist Natasha Paremski, immediately soared to the number one spot on the Classical Billboard charts. Zuill's numerous other releases include the chart-topping Quincy Jones-produced Diversity, with pianist/composer Emily Bear and his innovative Spanish Masters CD for Zenph Studios, where he forms a unique duo blending with recordings of composer Manuel de Falla and an all-American recital program with pianist Lara Downes on the Steinway and Sons label. In celebration of his recordings and appearances, Kalmus Music Masters has released Zuill Bailey Performance Editions, which encompasses the core repertoire of cello literature.
Network television appearances include a recurring role on the HBO series Oz, NBC's Homicide, A&E, NHK TV in Japan, a live broadcast and DVD release of the Beethoven Triple Concerto performed in Tel Aviv with Itzhak Perlman conducting the Israel Philharmonic. Mr. Bailey is also featured in the televised production of the Cuban premiere of Victor Herbert's Cello Concerto No. 2 with the National Orchestra of Cuba. He has been heard on NPR's Morning Edition, Performance Today, Saint Paul Sunday, BBC's In Tune, Sirius Satellite Radio's Virtuoso Voices, Minnesota Public Radio, and RTHK Radio Hong Kong.
Mr. Bailey performs on the "rosette" 1693 Matteo Gofriller Cello, formerly owned by Mischa Schneider of the Budapest String Quartet. In addition to his extensive touring engagements, he is the Artistic Director of El Paso Pro-Musica (Texas), the Sitka Summer Music Festival/Series and Cello Seminar, (Alaska), the Northwest Bach Festival (Washington), Classical Inside and Out Series-Mesa Arts Center(Arizona) and Director of the Center for Arts Entrepreneurship at the University of Texas at El Paso.