May 2 - June 20, 2022
Mondays from 10:45 AM - 11:45 AM
No events
There are no scheduled events. Please check back soon!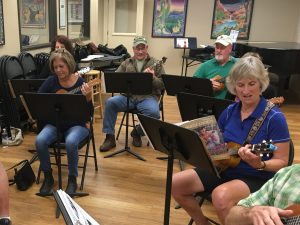 The Senior Strummers Intermediate Spring Session II expands your ukulele skills by  jamming on your favorite tunes!
In this 8-week session taught by Kehau Leitz, students will explore how their favorite songs work musically, learn to play melodies, and sharpen their ears to be able to pick up a tune on the fly!
Classes meet Mondays from May 2nd June 20th at 10:45am in the Community Room at Arizona Musicfest.
Some experience required. Students must provide their own instruments. (Concert or Tenor-size Ukuleles recommended, Baritones welcome!).
Please note: As of January 14, 2022, all visitors to the Arizona Musicfest offices must show proof of full vaccination, or a negative COVID-19 test, taken within 72 hours, prior to entry. 
Please email musicalive@azmusicfest.org with questions!