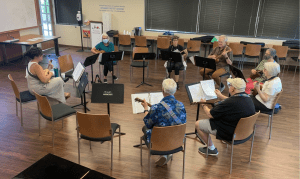 The Senior Strummers Intermediate Fall Session build's students' skills through learning fun songs to share with friends and family!
Join instructor Kehau Leitz for this 7-week session focusing on blues progressions, strumming patterns, and a few new songs to bring home. 
Classes meet Mondays from October 24 through December 5 at 10:45am in the Community Room at Arizona Musicfest
Some experience playing ukulele required. Students must provide their own instruments (Concert or Tenor-size Ukuleles recommended, though not required).
Please email musicalive@azmusicfest.org with questions!