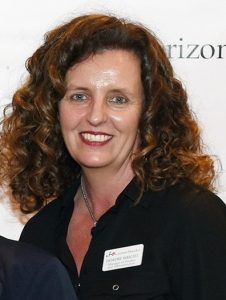 Name: Deirdre Wright
Title: Manager of Finance and Administration
No. of Years at Musicfest: Three
Hometown: Johannesburg, South Africa
These five songs hold the power to bring back memories, remind me of what's truly important in life and get me out on the dance floor with family and friends.
Richard Clayderman – Ballade pour Adeline (French for "Ballad for Adeline")
Composed by Paul de Senneville and Olivier Tousaint. Paul de Senneville composed this piece as a tribute to his newborn daughter Adeline. I have fond memories of my daughter when she was little, practicing ballet in the living room and asking her dad to be her prince.
Neil Diamond – Beautiful Noise
I grew up listening to Neil Diamond and still today enjoy his music.
Neil Diamond got his inspiration while at a hotel in New York with his two little girls. The windows were wide open, and right beneath them on Fifth Avenue there was a Puerto Rican parade going by. The music was amazing, full of rhythm and joy and one of his daughters said, 'What a beautiful noise, Daddy.' Boom! He had the title.
Huey Lewis and the News – The Heart of Rock & Roll
This song reminds me of my first trip to United States of America when travelling across country. A sense of freedom and adventure is represented in this song.
Redfoo – Juicy Wiggle
This is a fun tune that makes me smile and want to dance every time I hear Juicy Wiggle.
Tim McGraw – Humble and Kind
This song touched me, especially in these trying times when social distancing creates space and time between us all. It reminds us that there is much we have to consider when thinking of others and how they are affected by our behavior. A reminder of how we ought to be… Humble & Kind.