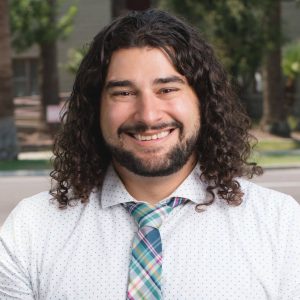 Name: Ben Baer
Title: Manager of Education, Youth Performance, and Community Programming
No. of Years at Musicfest: Two
Hometown: Warren, OH
My FAVE FIVE list highlights three of my favorite musicians, one of my favorite composers, and one chamber ensemble format that I absolutely used to LOVE playing in! Each has a special memory attached to it for me; I'd love to chat with you about them before one of our 2020/21 Musicfest shows!
So What from "Kind of Blue"
The Miles Davis Sextet: Miles Davis, Trumpet; Julian "Cannonball" Adderly, Alto Sax; John Coltrane, Tenor Sax; Bill Evans, Piano; Paul Chambers, Bass; Jimmy Cobb, Drums
The spacious opening section of So What has captivated me ever since I first heard Chambers and Evans reverberating through my speakers when I was 14. As I came to know the piece even more, I was struck by Davis' incredible ability to "play the rests," the wildly diverging styles of Davis, Adderly, and Coltrane highlighted in their varied but uniquely beautiful solos, and the phantom "seventh member" of the ensemble: Columbia Records' 30th Street Studio, "The Church." Every time I've moved in my adulthood, from my first night in the dorms to my current home in Phoenix, So What provides the first notes that float through the air, telling me I'm home.
Symphony No. 7 in A Major, Op. 92 – Ludwig van Beethoven
Performed by Carlos Kleiber and The Royal Concertgebouw Orchestra
From introduction to final cadence, Beethoven's Seventh is one of my absolute favorite Symphonies. I was so excited when we programmed it into our 2019/20 Festival Orchestra Week and couldn't contain my smile during their wonderful performance. Beethoven's cleverness and exuberance are on full display through this genius work: The simple two-note motive in the introduction generating the first theme in the first movement, the brilliant passacaglia in the second, the jocular grace notes in the scherzo, and the breakneck finale joyously bringing the piece to its conclusion. I particularly love this video of Carlos Kleiber & the Concertgebouw: Klieber's face and gestures reflect exactly the beauty, excitement, and joy I experience when listening!
Positive Contact from "Deltron 3030"
Deltron 3030: Dan the Automator, Del the Funky Homosapien, and DJ Kid Koala
I'm fascinated by the balance of elements in music (ie. Melody, Harmony, Rhythm, Sound, and Form), and how musicians choose to make any of those more or less complex. In the case of rap and hip hop, we often find more complex Rhythm and Sound as Melody, Harmony, and Form simplify. So, what do musicians do with this unbalanced musical style? In the case of Bay-Area trio Deltron 3030, they weave a science fiction rap-opera set in the year 3030.
Produced by Dan the Automator, the entire album relies on standard hip-hop beats and futuristic sounds evoking classic sci-fi. In Positive Contact, the expository song on the album, DJ Kid Koala layers Dan's setting with samples ranging from Sesame Street to Airplane! that diversify the soundscape. Atop all of this complexity is Del the Funky Homosapien's clear delivery of the exposition for their unique space tale. Lyrics can be found here; listen for Del's dense use of interior rhyme patterns in regaling us with their odyssey (eg. "OR-bit," "WAR-rant," "abSORB it," "STORE it," / "TAUR-us," "POUR-ous," "GOR-geous," "DOOR-step"); this is a key feature of his lyric writing.
Hold On from "Mule Variations"
Tom Waits
Tom Waits, the great American Troubadour, is my favorite musician – full stop. With a career and catalog spanning more than twenty albums over forty years, Waits' incredible songwriting, sonic explorations, and expressive use of his unique voice have been a constant companion and comfort for me. Hold On, from his Grammy Award-winning "Mule Variations" quietly and subtly exemplifies much of what I love about his music: The characters he creates are from real places and have real dreams, Waits canonizes them by writing their stories using the most beautiful language, and he sets those stories in simple song forms. The first time you hear this song, it's already familiar.
Serenade for winds, cello, and double bass in D minor, Op.44, B77 – Antonín Dvořák
Performed by The London Winds & Russian National Orchestra Joint Ensemble
Before I was a full-time educator and administrator, I was a bassoonist. One of my favorite things about playing chamber music as a bassoonist was the dual role the instrument plays, alternating bass lines in support of the harmonies above with tenor-range interior lines that add interest in the texture (occasionally, we'd even sport a melody!). One of my favorite chamber music memories was a student/faculty performance of Dvořák's wonderful Serenade for winds and low strings, on which I played second bassoon. I remember my part at times clearly connecting with the first bassoonist (my teacher), but at other times playing more as part of the low-string section, or the horn section, or playing a little duet with the second clarinetist in the middle there.
Such a delightful piece! The first movement is never weighed down by its march-like character, the minuet in the second movement glides across the floor with every bit of grace as a Tchaikovsky ballet, the Andante con moto, with its french horn back-beat, brings me to a lazy afternoon in a lolling hammock, and the fleet fourth movement brings the ensemble together for an exuberant finale.