March 11-25, 2022 at 10:00am
No events
There are no scheduled events. Please check back soon!
Have you ever wondered how composers create music that syncs so well with film? Or why it is some movie themes are perfect for the moment? What if one musical idea was replaced with another one – how would that sound? If you've questioned these, or just want to learn more about the art of music for film, you'll LOVE Musicfest U: Movie Music!
Join us for the continuation of our deep-dive series: Musicfest U, where we'll hear from film composer Dr. Christopher Norby exploring the intricate world of film music. As the modern-day extension of the classical cannon, the cinema industry has provided some of the great orchestra moments of the 20th and 21st century, as well as being the home of some of our finest composers.
Meet us in the Community Room on March 11, 18, and 25 at 10:00am to look behind the scenes at how film scores are written and recorded, hear live pieces performed to movie scenes, and review manuscript sketches of some of the most beloved movie scores in Western film! During this series, we'll explore works from composers ranging from Bernard Herman and Elmer Bernstein to modern giants like John Williams and Danny Elfman! Check out the videos for ideas similar to those we'll be covering:
John Williams maps out music for Empire Strkes Back:
Martin Scorcese talks about the Mood of Bernard Herrmann's music:
An arrangement from Chris Norby's of Bernard Herrmann's music for "The Day The Earth Stood Still," performed by Dr. Norby and Stephen Cook:
Please contact Ben Baer, Manager of Education, Youth Performance, and Community Programming at Ben@azmusicfest.org with questions.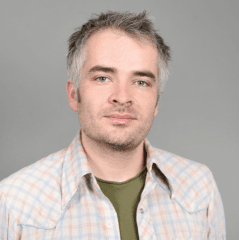 Dr. Christopher Norby
Facilitator
Christopher Norby is a composer, performer and teacher with an impressive range of international artistic experience across live theatre, concert composition, video game music, film/TV scoring and live performance. His commissioned concert and theatre works have been performed in major venues and festivals internationally. As a film and media composer, Christopher has completed scores for multiple iOS and Android releases and national USA television. He was a co-founder of AnNua Productions (Ireland, Australia) and in 2017 established Ensemble Kabarett – a multimedia live performance group that is gaining recognition for innovative and entertaining productions. Christopher teaches various courses around composition, theatre and film at Arizona State University.