March 7 - April 25, 2022
Mondays from 9:30 AM - 10:30 AM
No events
There are no scheduled events. Please check back soon!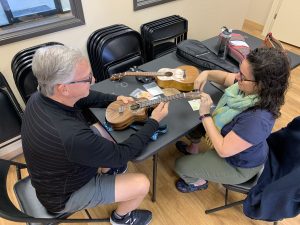 The Senior Strummers Beginner Spring Session I teaches you how to get around your new ukulele!
In this 8-week session, students will learn the basics: proper posture and strumming technique, the care and feeding of their instrument, and start learning a few songs to sing with friends and family.
Classes meet Mondays from March 14th through May 2nd at 9:30am in the Community Room at Arizona Musicfest
No experience reading music or playing ukulele required. Students must provide their own instruments (Concert or Tenor-size Ukuleles recommended, though not required).
Please note: As of January 14, 2022, all visitors to the Arizona Musicfest offices must show proof of full vaccination, or a negative COVID-19 test, taken within 72 hours, prior to entry. In addition, universal mask-wearing is required. Please note that instructors and performers may choose not to be masked, but must be fully vaccinated.
Please email musicalive@azmusicfest.org with questions!