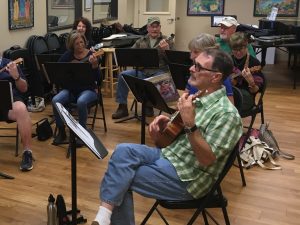 The Senior Strummers Beginner Spring Session expands beginners' techinique and confidence on the uke!
In this 8-week session, students will begin to jam together, building the technique and confidence to share their playing with friends and family. Together, we'll explore favorite songs in comfortable keys and progressions, and build some experience with common strumming patterns.
Classes meet Mondays from April 3rd through May 22nd at 9:30am in the Community Room at Arizona Musicfest.
No experience, but lots of enthusiasm, required. Students must provide their own instruments. (Concert or Tenor-size Ukuleles recommended, Baritones welcome!).
Please email musicalive@azmusicfest.org with questions!
Led By
Kehau Leitz
Kehau Kuhi Leitz started her musical career at an early age, born in Honolulu, HI, with her family as she performed in Luaus led by her grandparents. Her love for music and ukulele motivated her to pursue her Bachelor's in Music Education with an emphasis in Percussion from the University of Central Florida. She was fortunate to join the Disney World entertaining guests playing percussion and Universal Studios musician group playing xylophone in a cartoon theme band.
Over the years, she's enjoyed teaching private music lessons and organizing recitals for both kids and adults. Using a method of learning through play where the focus is the process of learning vs. the performance perfection, she identifies the individual's love for music and meets the students where they are to encourage further improvement. From teaching Frozen, to an Eminem piano medley, to La vie en Rose on the ukulele, her students are consistently thankful with their relationship with music.
As a wife and a mom of 4 kids, it's her love of music and her students' experiences that keep her going: "I learned more about music than any other instructor I've had", "music learning is more in-depth than I'm used to", "I'm learning more than just the chords on the page", and "it's so much fun!"