Over the years, Arizona Musicfest has been proud to present many talented artists through our Festival Season. Based on availability, we provide opportunities to connect area students with these world-renowned artists for meaningful and unique programming. Click through the tabs on the left to find out more about a few of our previous Access to Artistry programs!
Access to Artistry events are made possible through the generous support of patrons like you. Please consider donating to this program and all our Education, Youth Performance, and Community efforts by following the link below:
Join Arizona Musicfest for our upcoming ACCESS TO ARTISTRY program, featuring a discussion and masterclass with Musicfest guest artist Tito Puente, Jr.  Puente will explore his father's legacy, demonstrate and critique students on various Latin percussion techniques, and work with participants on a variety of instruments. RSVP via the form!
Emanuel Ax
April 21, Noon
La Casa de Cristo Lutheran Church: 6300 E Bell Rd, Scottsdale, AZ 85254
In anticipation of his all-Chopin recital that evening, acclaimed pianist Emanuel Ax has graciously agreed to host young musicians for a Q&A session covering topics including interpreting Chopin, the craft of performance, and his reflections on a world-renowned career. Interested participants may sign up via the form below, and send any questions to education@azmusicfest.org:
Sarah Chang
February 21, 5:00pm
La Casa de Cristo Lutheran Church: 6300 E Bell Rd, Scottsdale, AZ 85254
In anticipation of her feature performance with the Festival Orchestra, virtuoso violinist Sarah Chang will also host young musicians for a Q&A session. Exact time and details TBA. Interested participants may sign up via the form below, and send any questions to education@azmusicfest.org:
Music Director Robert Moody
Each season during Festival Orchestra Week, Musicfest works to connect standout musicians from our Young Musicians Competitions with our Music Director, Robert Moody. These informal Hearings provide invaluable experience to each student, giving them an opportunity to play for and receive meaningful feedback from a nationally-renowned conductor! Below are some highlights from our 2021 Hearing:
Vanessa Wiliams
On November 8th, 2019 The Kellis High School Unified Pride Choir joined Festival Opener Vanessa Williams onstage for a unique arrangement of Ms. Williams' beloved "Colors of the Wind" from Pocahontas. The choir, made up of public school students with and without intellectual disabilities, opened up the second half of the concert with Vanessa and inspired a standing ovation from the sold-out audience in attendance.
Chris Botti
On January 31st, 2020 trumpeter Chris Botti took time between his soundcheck and concert to host a Q&A with brass and jazz students from Arizona State University. Mr. Botti took questions on a wide array of subjects, sharing insights into launching a career, maintaining longevity and relevancy over an extended period, and how he plans his incredible shows with his collaborators. In addition to the special Q&A session, Musicfest was also excited to provide complimentary seats for the trumpet students to attend the performance.
Brian Stokes Mitchell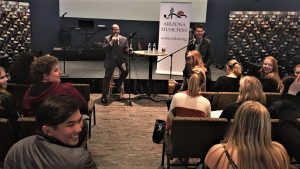 On February 7th, 2019, 50 students from Arizona State University, Grand Canyon University, and Arizona School for the Arts met with Broadway Legend Brian Stokes Mitchell before his concert that same evening. In a question and answer session facilitated by Musicfest Executive and Producing Director Allan Naplan, students heard from Stokes on a wide range of subjects ranging from stagecraft and diction to entrepreneurialism and personal marketing.
Jake Shimabukuro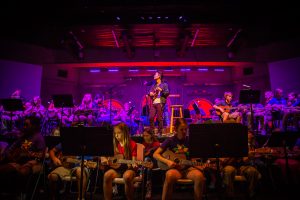 In 2014 students from Musicfest's Strummers Ukulele program met, rehearsed, and performed with Ukulele legend Jake Shimabukuro. Mr. Shimabukuro and the Strummers students performed alongside Maestro Robert Moody and the Festival Orchestra during their Orchestra Fest week.
Cantus Vocal Ensemble
During Winterfest 2015, Members of Cantus Vocal Ensemble met with students from the Arizona School for the Arts Choir program for coaching and a wide-ranging Q&A session before their concert that afternoon.
Masterclasses
Each year, students identified through Arizona Musicfest's highly-regarded Young Musicians Competitions can be selected to participate in Masterclasses with featured Festival Artists.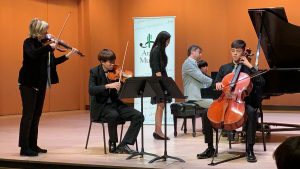 On February 10, 2019, Young Musicians received coaching from featured Festival Chamber performers Trio Solisti before the trio's performance in the MIM Music Theater that afternoon.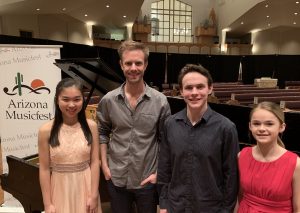 On February 20th, 2019, three Youth Pianists participated in a masterclass with Featured Festival Orchestra soloist Andrew von Oeyen. Students performed pieces by Ravel, Mendelssohn, and Chopin and received thoughtful critique and coaching from Mr. von Oeyen.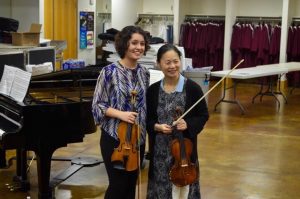 In February 2017, violin virtuosa and Musicfest featured artist Midori hosted a masterclass with violinists recognized through our competition series.
Festival Orchestra Outreach
Every February, some of North America's finest orchestral musicians convene in the Valley for the Arizona Musicfest Festival Orchestra. During this exciting and jam-packed Orchestra Fest, orchestra members volunteer their time to visit area schools for masterclasses, sectionals, private lessons, and Q&A sessions.
In 2019, Musicians from the Festival Orchestra visited students in North Canyon, Shadow Mountain, and Paradise Valley High Schools, along with Arizona School for the Arts.
The Festival Orchestra will convene during the week of February 17-21, 2020. Please fill out the form below to request a visit: