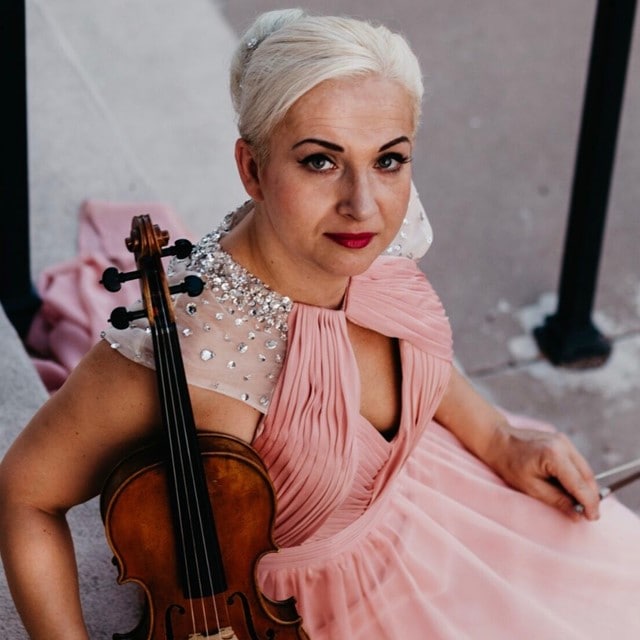 Dagmara "Daga" Suchoń-Hobbs was born in Poznań, Poland. She began playing the violin at the age of three, the 4th generation of her family to do so. Her father, Stanisław Suchoń, the Assistant Concertmaster of Poznań Philharmonic Orchestra, was her first teacher. Under the guidance of Prof. Michał Grabarczyk, Dagmara graduated cum laude from the Ignacy Jan Paderewski Conservatory in Poznań, Poland. She has also studied with Wanda Wiłkomirska, Marina Jashvili, Abram Stern, Alexander Treger, Jeremy Cohen, and Murray Adler.
Upon graduation, Dagmara lived in Germany where, as a pop musician, Daga was the famed artist behind the Space Violins-electric violin duo founded by her sister, Joanna
Suchon. After moving to the United States in 2005, she worked as a freelance musician in Los Angeles for four years. Since relocating to Phoenix, AZ in 2009, Dagmara performs frequently with the Phoenix Symphony and has performed with the Arizona Musicfest Festival Orchestra for several seasons. Her orchestral engagements include performances with Poznan Philharmonic Orchestra, Tiroler Festspiele Erl, Udine Symphony, Macerata Orchestra, Orchestra Tullio Serafin Orchestra, the Riverside County Philharmonic, San Bernardino Symphony, Redlands Symphony, Santa Monica Symphony, Ventura Festival Orchestra, New West Symphony, The Phoenix Opera, The Henry Mancini Institute Orchestra, The American Youth Symphony, and Musica Nova Orchestra where she held the Concertmaster position.
A versatile and in-demand musician, she has performed in a wide range of ensembles, from early music to symphony orchestras, film music recordings, jazz groups, flamenco guitarists, and corporate shows with electric violin. Dagmara is also a member of Duo Polonaise, the ensemble formed in 2009 with Polish-American organist Ilona Kubiaczyk-Adler to promote refined, brilliant, and obscure music for violin and organ. They bring to the stage brilliance, edge-of-the-seat energy, and Eastern European sensitivity. When she is not teaching or performing, Daga enjoys spending time with her family and
exploring the world of photography.