Friday, August 20, 2021 10:00 am
Explore cutting-edge musical technology of the late 1700s!
Beethoven would have been trained and composed not on the modern piano we hear filling concert halls today, but on its predecessor, the Fortepiano. Innovative for its ability to express a wider range of volumes (forte to piano), the Fortepiano enabled the young Beethoven to write his dynamic first two piano concertos, his early piano sonatas, and sketch his first two symphonies. Join the incredible Eckart Sellheim as he brings his Fortepiano into the Community Room to compare it to the modern grand piano, discuss how the instrument changed how composers thought of keyboard instrument, and listen to excerpts from Beethoven's pieces as he would have heard them 250 years ago!
RSVP above, and check out the two versions of Beethoven's Moonlight Sonata below to prep your ears!
Eric Zivian on Fortepiano:
Wilhelm Kempff on a modern grand piano:
Getting Here
Community Room at Arizona Musicfest
7950 E Thompson Peak Pkwy
Scottsdale, AZ 85255
Directions
7950 E Thompson Peak Pkwy
7950 E Thompson Peak Pkwy, Scottsdale, AZ 85255, USA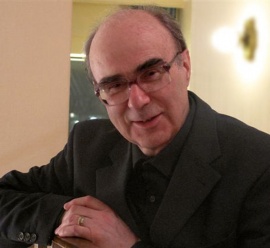 Eckart Sellheim
Lecturer
Prof. Eckart Sellheim received his education in Germany and Switzerland, including with Adolf Drescher and Jakob Gimpel. After teaching for many years in Cologne and Ann Arbor, Michigan (USA) from 1989 to 2008 he was Professor and "Director of Collaborative Piano" at Arizona State University in Tempe (USA) as well as a lecturer/teacher of fortepiano at the music conservatory in Trossingen until summer 2006. He has given numerous master-classes in piano, chamber music, lied accompaniment, fortepiano and historical performance practice in Europe and the USA, and is a jury member at international music competitions. He has toured around Europe, America, Latin America, the Caribbean, the Middle East and Africa.
Sellheim's recordings can regularly be heard on the radio in Germany and America; his discography encompasses more than 30 recordings as a soloist, lied accompanist and chamber musician, many of which were for CBS Sony with his brother and long-term duo partner, the cellist Friedrich-Jürgen Sellheim.
© Photo: Charly Leske