Part performance, part lecture, go deeper into the creation of some of your favorite pieces with Musicfest Informances.
Jazz guitar luminary Django Reinhardt pioneered a unique jazz style all his own influenced by a combination of his Romani roots, physical limitations, and fantastic musical imagination. Along with violinist Stéphane Grappelli, Django founded the "Quintett du Hot Club de France," who were responsible for now-standard tunes such as Minor Swing, Nuage, and Belleville, which are what we know of as Hot-Club or "Gypsy" jazz. Join Arizona Musicfest for a lecture performance exploring the tunes, techniques, and style of these legendary artists led by local Hot-Club style jazz musicians from ZAZU West. Find examples of Django & Stéphane's oeuvre below, and register by the link above!
Django Reinhardt – Nuage
Django Reinhardt – Minor Swing
ZAZU West – Insouciant
Led By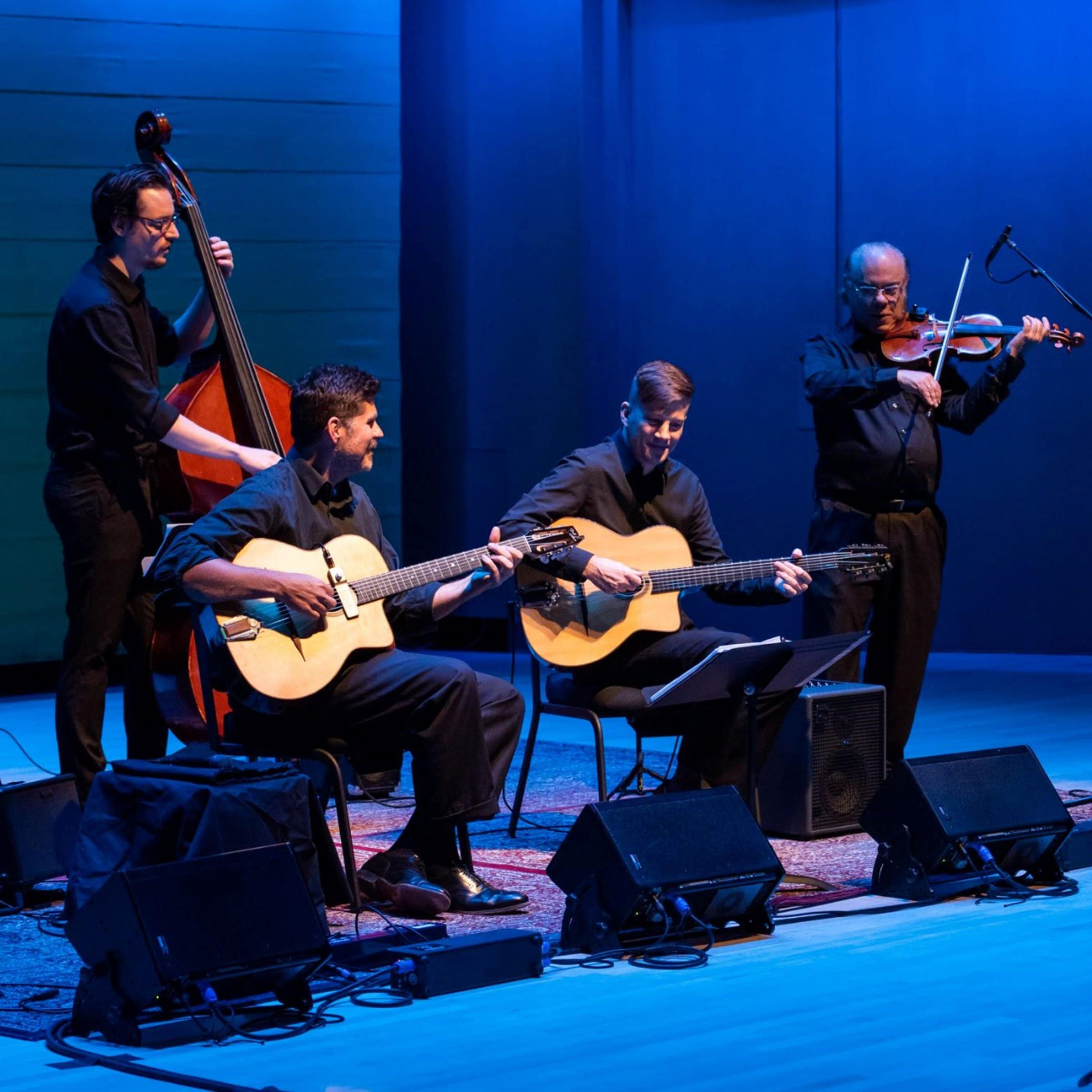 ZAZU West
ZAZU West is the newest Phoenix-area permutation of Gypsy Jazz band ZAZU, founded by bassist Steve Douglas and guitarist Lake Aurich as "Musette" in December of 2004. Shortly after forming, ZAZU added guitarist Larry Czarnecki and played in that trio lineup for many years, often adding violinist Allen Ames, who performed as a special guest and on ZAZU's first album recording, The Soul of Paris, a double CD released in July of 2009.
In 2014, guitarists Ryan Vance and Mike Fowler joined ZAZU, performing with Steve and special guests in and around Southern Arizona while Lake and Steve would continue to play Northern Arizona with Ryan and others. During this time special guests often included Allen, along with frequent appearances by clarinetist Jeff Quamo and violinist/trumpet player Devon Bridgewater.
In the summer of 2019, Steve relocated to the East Coast and ZAZU West was born with the idea of keeping the ZAZU tradition alive while leaving the door open for a ZAZU East once Steve recruits another Django army back East.
Since 2019, Vincent Thiefain has been a mainstay on bass and in 2021 vocalist Constance Genter began performing with ZAZU West, adding a wonderful new layer. Other players who have performed with ZAZU include Ryan Picone, Marc Lingle, Bailey Zick, Jeff Schalau, Brian Sanders, Ioannis Goudelis, Stephanie Groot, Vincent Ziegelbaum, and Mike Hall.